Artist's Art

Forest Dreams Studios Presents:

Venkman_Blues'
Characters

for

Updated: 16 January 2023
'Microsoft Chat' Aka Mschat or Comic Chat is a unique IRC program that lets you chat in normal
text or come to life in the form of a comic strip character - that becomes a living comic strip!
You can download some of my own characters that i made for it, or you can find others on Phoenix-onlne-nexus!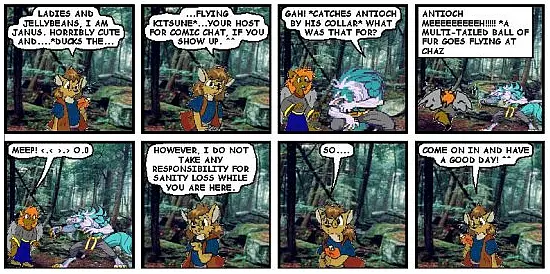 To Download characters -Right Click and select 'Save Link As'
save to C:/Program Files/Chat/Comicart

You MUST have Mschat in order for these to work
(special thanks to Mermaid_Elizabeth who helped restore some of my older characters)
These are all my characters that i have made for Mschat aka Comic Chat
These are Characters that I helped to edit - All Characters are © there owners


This page has been edited and posted by Mermaid_Elizabeth on 'phoenix-online-nexus.com'
The page actually links to Venkman_Blues files on her server!

All art and characters are © and TM Forrest Dreams Studio - designed by Angela Beaman AKA Venkman Blues
all requested characters are © there owners