One of the most popular items here at Phoenix is the 'Fun Phoenix Newsletter '. We currently have hundreds of subscribers who receive our newsletters which are dispatched approximately every 7 - 10 days by our fabulous editor MsBoots, or more frequently if we have enough content to keep our readers entertained.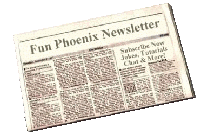 Articles include jokes, "How To" tutorials, MS chat server related issues, and just about anything else our members send in for publication.
If you would like to subscribe, or you know someone who needs a lift and would appreciate receiving copies of our newsletter, please write to us at fun_phoenix@yahoo.com. Put "Newsletter" in the subject line and MsBoots will add you to the list. Once you're added you can send us stories, jokes, poems etc for publication but please keep it clean!